What type of collar/harness do we prefer? The Easy Walk Harness!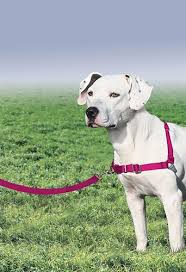 Here at Coastal Paws Pet Sitting Pet Sitting ~ we like to make our dog walks a pleasant and successful experience for all. With all the different collars and harnesses on the market today, we have found the "Easy Walk Harness" is across the board the best piece of equipment we have!  We have Easy Walk Harnesses in all sizes and encourage our pet owners here in Carlsbad CA to utilize them as well.
Here's what makes this harness so wonderful: The Easy Walk Harness gently discourages your dog from pulling on the leash. Easy to fit and comfortable to wear, the Easy Walk Harness makes walking enjoyable for you and your dog. The front-chest leash attachment helps you steer your dog to the side and redirect his attention toward you. The chest strap rests across your dog's chest instead of putting pressure on the delicate throat, so there's no choking or gagging.  These harnesses come in sizes for toy breeds all the way up to giant breeds. A comfortable dog is a happy, well behaved dog!
Here are the key features of this wonderful harness:
Discourages pulling on the leash.
Perfect for teaching dogs to walk nicely on a leash.
Easy to fit and use.
4 adjustment points provide maximum comfort and reliable fit.
Martingale loop at chest prevents twisting.
Quick-snap buckles on shoulder and belly straps for easy on and off.
Belly strap is a complementary color, making it easy to tell which strap goes over      the shoulders and which strap goes under the belly.
This harness is very well made, holds up well and lasts a long time. We have some that are more than 10 years old and still in great shape. Good value, great product  = happy dogs! Contact Divine Canine Pet Sitting today for daily dog walking.  We will go over your pet's exercise abilities or restrictions and get them out for fun, potty time, and positive reinforcement. After your walks, we refill water, give treat (if provided), and leave handwritten notes about how the walk went, etc. Your home is secured and your dog/dogs are happy!